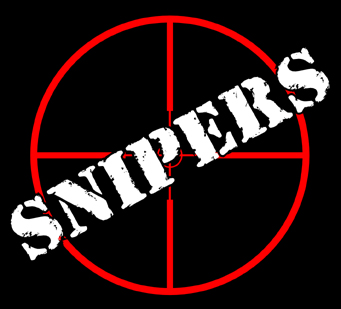 Welcome to the

Serbian Club Snipers

Steel Tip Dart Team's

Official Website

There's not much for me to put on here right now as this season was not well organized by the league and there are no stats, no standings, nothing of any importance to put on this page right now. I will try to keep some news of the post season as the Serbian Club Snipers start their playoff run to the 2003 City Championship!

The Serbian Club Snipers finished 3rd in the 'C' Division, just missing a bye in the first round of the playoffs. They ended up playing 6th place Culture Club in the first round of the playoffs. Due to a total team effort, the Snipers won easily 16-4. Thus, the Snipers advance to the Division Semi Final next Tuesday, and will be playing Guys & Dolls #1 who finished 2nd in the 'C' Division.

April 22, 2003:

(Quarter Finals)

The Serbian Club Snipers faced 2nd place Guys & Dolls #1 in the 'C' Division Semi-Final. The Snipers again lost the very first game of the night, but regained their composure and took 9 out of 12 doubles matches which gave them an 11-4 lead going into the singles matches. Perhaps the Snipers became too overconfident, or the Guys & Dolls team was just digging deep, but Guys & Dolls made it a very close match taking 6 out of the first 8 singles matches to make it 13-10 for the Snipers! However, the Snipers pulled up their socks and ended up taking 3 out of the next 4 singles matches to take the night 16-11 and advancing to the 'C' Divsion City Championship against the other Guys and Dolls team, captained by Lindsay White.

April 29, 2003:

(Semi Finals)