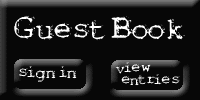 This page was last updated on: November 15, 2019


To check out Darcman's Fantasy Football League (a.k.a. DFFL), click the logo above!

My Photo Album, you never know what or who you'll find in here!

Click above to go to Western Pizza.com!

All content, logos and trademarks appearing on this website are the sole property of their respective owners.  Most images have been used with the owner's permission.  If there is a concern of copyright infringement please notify me immediately and I will look into the concern and fix the problem, up to, but not limited to, immediate removal of the article or image in question. All other articles, content and images are the exclusive copyright and property of Darcman.com 2003 - 2005 inclusive.

Click above to go to other sites that I like!

Click above to go to the Regina Aerial Touch Football League's Official Website!!!!

Click above to go and see how some of us rang in 2004!

This will eventually replace the Star Of The Month. Check it out and let me know what you think!

The JSN CFFL can be reached by clicking the  above logo!